WPLS offers both digital and physical collections to its customers. Each contains a varied and diverse selection of materials that has something for everyone.
The WPLS Catalog gives customers the opportunity to browse books, eBooks, audiobooks, eAudiobooks, and other medias available.
There are two options for looking for books/audiobooks:
This catalog shows both the physical and digital collections that WPLS has to offer. This is your one stop stop for any and all Books, Audiobooks, eBooks, and eAudiobooks.
This catalog is more specific than the Full WPLS Catalog. To make browsing the digital collection more efficient and streamlined, the eCatalog contains only eBooks and eAudiobooks.
*Remember, eBooks and eAudiobooks are electronic books that can be downloaded onto one of your devices and accessed from anywhere!
So, how does one get to the catalog from the webpage?
Begin by putting your cursor over the Explore tab in the Menu Bar.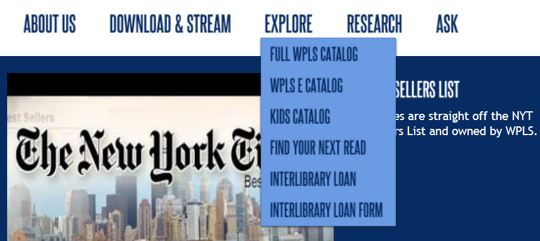 Select the

Full WPLS Catalog

to browse all of the materials that WPLS has to offer or select the

eCatalog

for the WPLS digital collection.