Interlibrary Loans (ILLs) are a way for customers to still read books that WPLS does not actually have in its collection.
Please note the following:
Please remember that these books are not owned by WPLS, but by other libraries and library systems; therefore, they have special rules and restrictions; to view the WPLS ILL Policy, please

click here

.

Books that are published within the last 6 months are not available for request through ILL.

Only books that are not owned by WPLS are allowed to be requested.

Due dates are different from regular WPLS materials and are set by the lending library not WPLS staff.

If kept past that date, items are subject to overdue fines.
To place an ILL see the following options:

Begin by search the WPLS Full Catalog for your desired title, if the title is not present and is older than 6 months, it is a candidate for an ILL request.
Note: If an item shows unavailable, this just means that it is checked out; it is still owned by WPLS and if you so desire to read the title, you may place a

hold

on it to ensure that you are in the line for it.

If the book cannot be found in the WPLS Full Catalog, there are a number of places to find the ILL Request Form on the webpage
Since a search in the Catalog is necessary to determine if a title is owned by WPLS, a link to the ILL Request form can be found at the top of the page.

The second way is straight from the WPLS homepage itself and can be found under the My WPLS heading.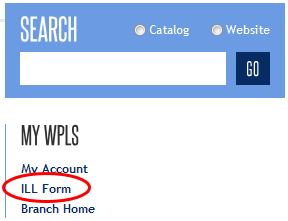 The final place to find the ILL form is in the Explore menu.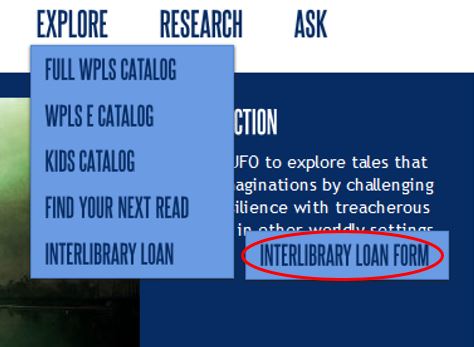 Once the ILL Request form is launched, fill in as much information as possible to ensure that you receive your desired reading material.

If you have any trouble or need assistance of any kind, please do not hesitate to contact your local library for help.

To begin exploring the WPLS catalog, please click here.