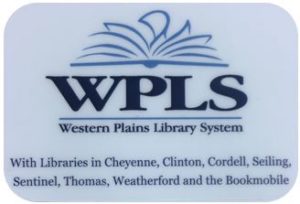 Adult Library Card Applicants:
To obtain a library card from Western Plains Library System, an applicant must , be over the age of 17, physically visit one of our libraries, and provide two forms of identification:  a photo ID and current address in the four county area (Custer, Dewey, Roger Mills, Washita) Below is a list of acceptable forms of identification and address verification.
Current vehicle insurance verification form
Personal check with printed name and address
Medicare or other medical plan card
Custer, Dewey, Roger Mills or Washita County ad valorem property tax statement
Telephone directory verification is acceptable for an applicant to show proof of address
Western Plains Library System will not accept credit cards or social security cards as verification forms.
What if I do not live in Custer, Dewey, Roger Mills, or Washita County?
If you provide a photo ID with your current address on it and either proof of employment or proof of land ownership within one of the above listed counties, a library card may still be issued to you.
What if I do not qualify in any of the above ways, but I still want a library card?
Customers who do not qualify for the above free non-resident cards, the individual can pay $50.00. This qualifies the entire household and must be paid annually upon expiration of the cards.

Can my child get a library card?
Absolutely! Children under the age of 16 years old can be issued a library card and will be listed as the dependent of an adult's card. In order to be a responsible party, the individual must meet the above requirements and he or she will be responsible for the well being of library materials borrowed by the listed dependents.