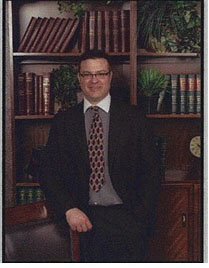 Tim Miller assumed the position of Executive Director at Western Plains Library System on February 1, 2013.  Miller joined the Western Plains staff in 2004 as Acquisitions Coordinator, and was promoted to Assistant Director in 2008.
Prior to his arrival at Western Plains Miller worked for three years as a graduate assistant in the Fine Arts & Architecture Branch Libraries at the University of Oklahoma.  Miller also worked for two years as a student reference assistant at the Southwestern Oklahoma State University Al Harris library.
Miller graduated from Southwestern Oklahoma State University with a degree in history, and received his master's degree in library and information studies from the University of Oklahoma.  Miller is a member of the Oklahoma Library Association, and currently serves as the Association's Treasurer.  He previously served as the Association's Secretary in 2009.  Miller is also a member of the American Library Association and the Mountain Plains Library Association.
To contact Mr. Miller please call the Western Plains Library System Main Office at 580-323-0974.